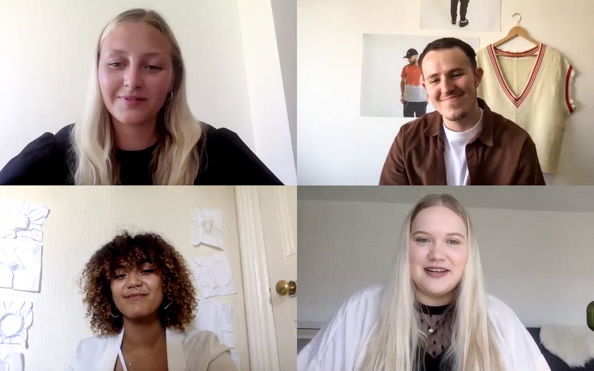 "The rules? They're not going to be the rules anymore!" - Shadia Houssein, University of the West of England, Bristol.
Here is the brave new world of the Class of 2020, imagined by this year's fashion graduates in lockdown. Through the windows of this London Fashion Week platform, we can see into the landscapes and witness conversations of students who've just spent twelve weeks in isolation who are rethinking everything they thought they were aiming for. Facing the fact that there would be no catwalk shows - that there would be classes on Zoom, that instead of studio space there might be the four walls of a bedroom, no fabric, maybe even no access to a sewing machine - these are the inspiringly resourceful solutions created by the BA students of 14 colleges throughout the UK. 
What they've been going through is a microcosm of the massive reconsideration of what the fashion industry at large needs to tackle -how it needs to reform, to include voices from everywhere, become more human, less wasteful and present fashion in ways which have values beyond the clothes embedded in them. " I hope that we value people more than profit" says one student from Manchester Metropolitan University. 
Young people today are the advanced guard of the change the industry needs.Their education and their ways of life mean they're qualified with knowledge that even people who graduated ten years ago don't have. Their ability to turn on a dime and come up with low-cost - and irrepressibly uplifting - solutions is a resilient characteristic that shines through wherever you care to dip into these presentations. The flipside of constraints they've faced while the whole fashion world has been on pause is a liberation into doing things differently, self-acquiring new skills in a matter of weeks.
Just as a taster - there are the students at Middlesex who made miniature collections on dolls, and learned to animate; Jake Treddenick at the Royal College of Art who made a Zoom houseparty show with friends at a distance; Brighton College of Art's students who came up with a dreamy hand-crafted video compilation shot in front rooms and summer fields. What they and so many more prove is their potential, not just to make clothes, but their ready-made generational ability to crack the condunrums of blending meaning and creativity into communicating fashion in a very near future that will be doing without the old catwalk system.
At the British Fashion Council, we congratulate all of the Class of 2020, and their teachers, who have adapted with dedication to encouraging and enabling them through the toughest circumstances. We're also immensely proud to feature here the work of the British Fashion Education scholarship cohort of 2020. They are just the latest of the scheme which is funded by donations from individuals, companies, and the Fashion Awards. We need to do more to expand the reach of the charity. To ensure the development of the inclusive, healthy industry we need, it goes without saying that our thanks comes with the note that we ask for more - money, dedicated mentorship- to back up the ones behind them.
A final thought:
We've always been told that " there will be jobs in the future that never existed in the past." Roles which contribute to team thinking - often at a distance- are part of the way things are are already part of the new reality. That is what this generation offers to forward-thinking corporations: not just design talent, but also direct intelligence for hire, voices with points a of view which should be co-opted at board-level. We can do better than making the viewing of this generation's talent a spectator sport. To end, I'll underline the words of Edinburgh University's fashion department: " Please reach out to support them, to mentor them and open your doors to paid positions in your industry, however small or large."
Sarah Mower MBE